Aluminium
Recyclable materials for sustainable designs
Thanks to their excellent flow properties and good machinability, aluminium-silicon alloys enable the production of complex, finely structured components that need to meet precise requirements.
By adding Si and Mg, variable strength properties, often with high elongation and impact strength, can be achieved. The primary aluminium alloys used are corrosion resistant.
Aluminium-Zinc alloys (here: AlZn10Si8Mg) are used when high strength is required. Due to their self-hardening character they regenerate after being overloaded.
Castings made of an aluminium alloy are particularly suitable for complicated, pressure-tight, vibration and impact-resistant design elements.
Accordingly, they are used in many different ways:
in mechanical engineering, motor vehicle and engine construction
in domestic appliance manufacturing
in defence technology
in electrical engineering
in rail technology
in wind power engineering
in environmental engineering
in e-mobility
EN AC-Al Si12 is an eutectic alloy with excellent die filling properties, high hot tearing resistance and excellent casting properties with high chemical resistance. It has excellent weldability, medium strength properties, high elongation at break and good impact strength. This alloy is not heat temperable.
EN AC-Al Si9Mg / EN AC-Al Si10Mg are amongst the most important hardenable AlSi casting alloys. It is a near-eutectic alloy with excellent casting properties, good hot tearing resistance, good machinability and high chemical resistance. In addition, this material is characterised by high strength values after heat treatment, as well as excellent weldability.
EN AC-Al Si7Mg0.3 is another important hypoeutectic AlSi casting alloy with moderate flowability. It can be heat hardened. It can be used to produce high-strength structures with remarkable toughness and elongation. It has very good corrosion resistance and therefore high resistance to chemical corrosion. This alloy also has good machinability and weldability.
EN AC-AlZn10Si8Mg is a self-hardening casting alloy with very good flowability. Due to the high zinc content, corrosion resistance is greatly reduced. It is not suitable for castings subject to vibrating or percussive stress, or for castings that have to absorb bending or shearing forces or require a certain toughness. A sudden brittle fracture cannot be ruled out. The strength is achieved by a 10-day storage at room temperature. The main advantage of this alloy is the saving of heat treatment costs. In addition, it has excellent machinability and weldability properties.
Materials table
Aluminium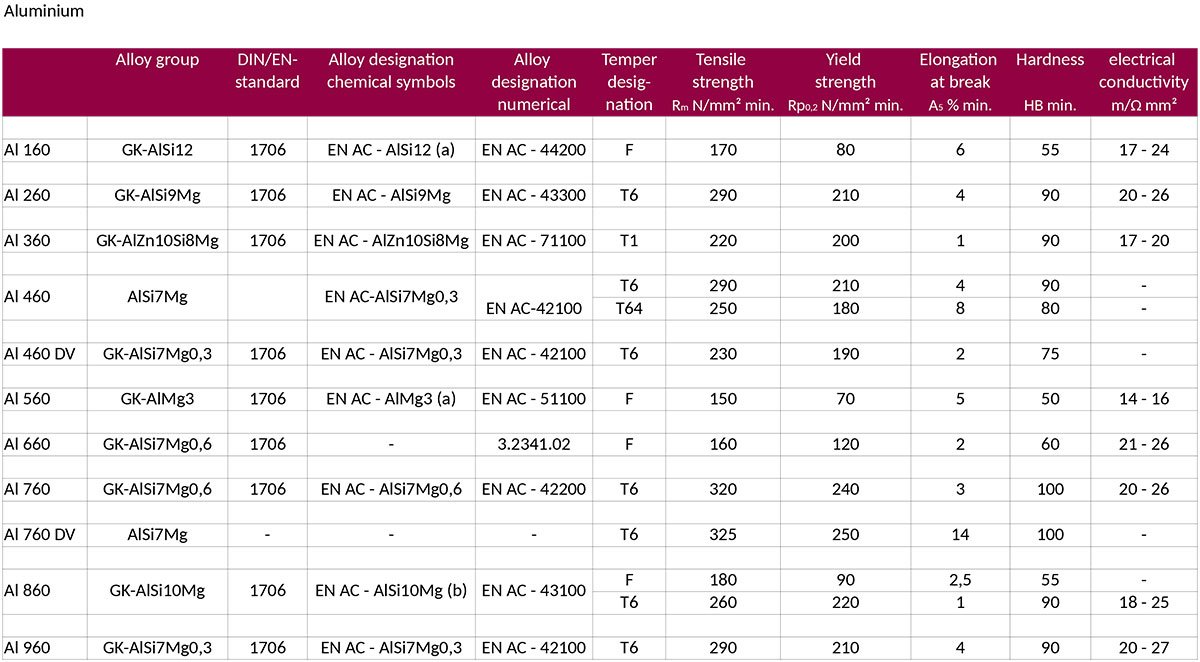 ---
Aluminium Materials table
You can download the materials table as a PDF here